Saint Anthony of Padua, patron saint of lost and stolen articles, was a powerful Franciscan preacher and teacher. He's typically portrayed holding the child Jesus.
Saint Anthony of Padua was born on 15 August 1195, he was also known as Anthony of Lisbon. His parents, Martin Buglione and Anna Teressssa Taverra, apparently belonged to one of the wealthy family in Lisbon, Portugal.
He is for his contemporaries for his powerful preaching, expert knowledge of scripture, and undying love and devotion to the poor and the sick. 
On 13 June 1231 Saint Anthony died at the poor Clare monastery at Arcella on the way back to Padua. He lived only 35 years but lived for Christ. 
He was one of the most quickly canonized saints in church history. He was proclaimed a Doctor of the Church on 16 January 1946.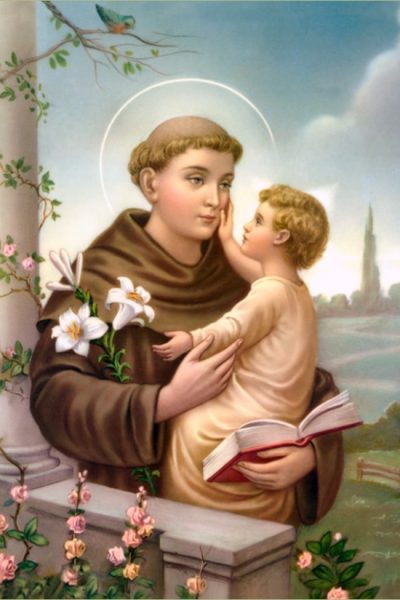 Once, when St. Anthony of Padua attempted to preach the true Gospel of the Catholic Church to heretics who would not listen to him, he went out and preached his message to the fish. This was not, as liberals and naturalists have tried to say, for the instruction of the fish, but rather for the glory of God, the delight of the angels, and the easing of his own heart. When critics saw the fish begin to gather, they realized they should also listen to what Anthony had to say.
He was only 35-years-old when he died and was canonized less than one year afterward by Pope Gregory IX. Upon exhumation some 336 years after his death, his body was found to be corrupted, yet his tongue was totally incorrupt, so perfect were the teachings that had been formed upon it.
He is typically depicted with a book and the Infant Child Jesus and is commonly referred to today as the "finder of lost articles."