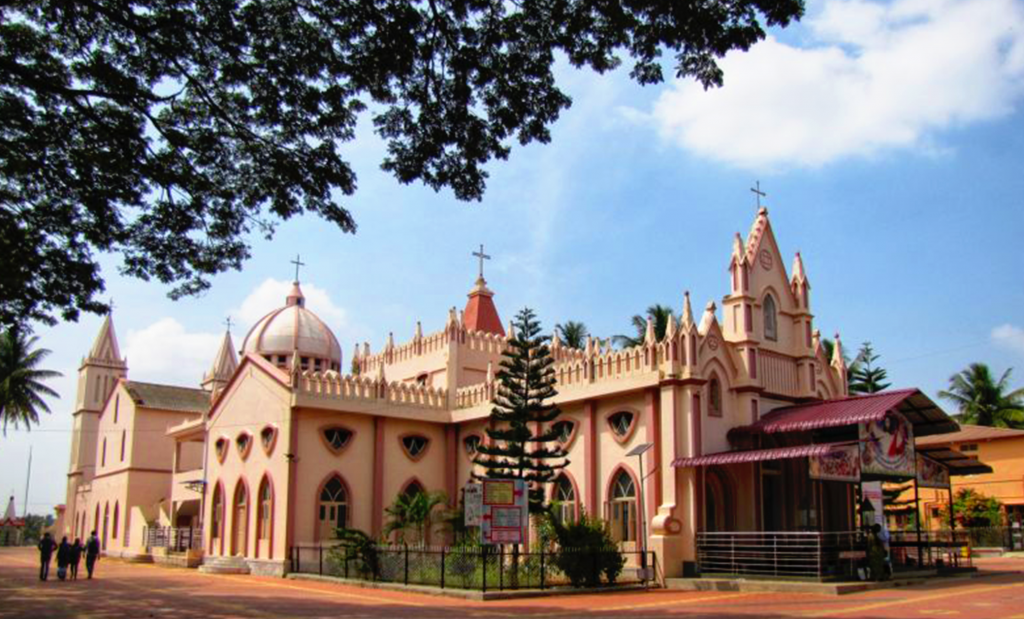 Around 220 years ago, a farmer while tilling his field, found a wooden statue which was found to have miraculous powers. In the days to come, it was revealed that it was the statue of St. Anthony of Padua. Devotees started visiting this place in large numbers and obtained great favors.
In order to facilitate the devotees to pray and show their reverence to St. Anthony, a small shrine was built in the year 1920, by the Parish priest Rev. Fr. S. D'Silva with the generosity and help of the erstwhile Dewan at the Mysore Palace, Shri Thambu Chetty, and his brother Shri Dharmaraj Chetty.
In the years to come, the number of pilgrims visiting the shrine because of the miracles taking place increased manifold, it was then decided to construct a spacious and beautiful church by the then Parish Priest Very. Rev. Fr. I. H. Lobo, and hence construction started in the year 1964. The newly constructed, spacious, beautiful church was blessed and inaugurated on the 13th of June, 1969 by His excellency Most. Rev. Dr. Matthias Fernandez, who was the Bishop of the Diocese of Mysore.
On the 17th of October, 2019, by the Divine blessings of The Almighty, the Church was granted the status of "Minor Basilica" by His Holiness Pope Francis which is a matter of great joy to all  the Devotees.
On 9th June 2020, Most Rev. Dr. K. A. William Bishop of Mysore Officially announced the Minor Basilica and  Offered the Thanksgiving Mass.
This Holy Basilica began around 1800 A.D. This same land was the field of a farmer who was plowing this Raagi field struck the miraculous statue of St. Anthony which was about one and half feet height. He took it to be a doll in spite of the warning given by St. Anthony in a dream. As a result he had to face many hardships. Again he was directed in a vision to build a shrine. In this place when this was reported to a Christian Priest who had visited Mysore then recognized the miraculous statue is of St. Anthony of Padua. Then Holy Mass and Prayers began since Christians started to come here. Then farmer had built the shrine for his household. Since then there was joy and prosperity in the family. As he proclaimed it others began to come to the shrine and pray through St. Anthony. Steadily the fame of the St. Anthony pervaded around and many more people obtained grace of God. The devotees who have come here and prayed have returned with God's abundant blessings, joy, Satisfaction & consolation.
Until now many Priests have served for the betterment of the parish, namely
REV. FR L.H. LOBO (1944-1974)
REV. FR. FELIX TAURO  (1974-1977)
FR. THOMAS THADIKKAL (1977-1985)
REV.  FR. L. SANTIAGO (1985-1996)
REV. FR. C. RAYAPPA (1996-2002)
FR. M ANTHAPPA (2002-2004)
REV. FR. T PAULUS (2001-2010)
REV. FR. GILBERT D'SILVA (2010-2016)
REV. FR. R AROGYA SWAMY (2016-2019)
REV. FR. N.T. JOSEPH (2019)